**Hello everyone.
In my previous write ups, I've explained the atomic wallet ecosystem. Today, I'll be sharing my user experience of how to use the atomic swap to swap different crypto assets.**
The atomic wallet allows users to hold, swap, exchange, send, and receive digital assets securely. users remain in complete control of their assets knowing they are protected. the software and integrated API's of the platform provide users with options to manage private keys safely and set various procedures to help remove points of failure. Different from traditional banks or other digital asset wallets. Thus, the atomic allows users to swap assets with the secure Atomic swap technology.
ATOMIC SWAP TECHNOLOGY : the atomic wallet incorporate in its platform a decentralised cross blockchain exchange which individuals can trade without third-parties. This exchange enables anyone to trade any amount of their Cryptocurrencies with little fee unlike centralized exchanges which state out minimum amount to trade and also charges high fees.
TO CARRY OUT A SWAP, LOGIN TO THE ATOMIC WALLET AND CLICK ON THE ATOMIC SWAP TAB
The atomic swap section consist of three different tabs which are the MARKET, PLACE ORDER AND MY ORDER.
1. THE MARKET TAB : this tab shows all the available crypto assets markets and their current conversion rates, looking at the image above, the conversion or swapping rate of BTC to LTC is 1 BTC= 109.24 LTC
2. PLACE ORDER TAB: this is where you will create your swap order. When you click on the tab, it will show up the two logo of the assets you want to swap. The first asset's logo is the asset you want to swap to the other. To select your desire assets for swap, simply click on the two logo to select the coins which are supported by the atomic swap.
After choosing the two assets you want to swap, then click on the advance option in order to set your own swap conversion rate by choosing automatic trade or by choosing market rate in order to use the current market conversion rate.
The image shows the swapping of 1 BTC to LTC at the rate of 1 BTC = 126 LTC using the Automatic trade option. The minimum swap amount is 0.0002 BTC. when you click on Place order, the swap process begins automatically.
3. "MY ORDER"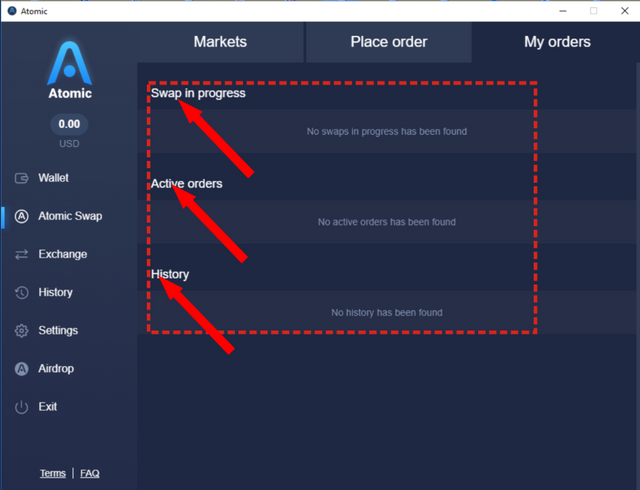 This tab shows three options which are swap in progress, active orders and History.
1. Swap in progress tab : shows the swap order which are been executed.
2. active orders : consist of all the entire placed swap orders
3. history tab : shows all the entire swap records.
**I HOPE THIS LITTLE USER EXPERIENCE I SHARE WILL HELP. HAPPY SWAPPING.
IF YOU DON'T HAVE THE ATOMIC WALLET APP, VISIT THE OFFICIAL WEBSITE TO DOWNLOAD** :
ATOMIC WALLET OFFICIAL LINKS
Website : https://atomicwallet.io
Whitepaper : https://download.atomicwallet.io/atomicwallet-whitepaper.pdf
Telegram : https://t.me/atomicwalletchat
Twitter : https://twitter.com/atomicwallet
WRITTEN BY :
CRYPTOMONGER